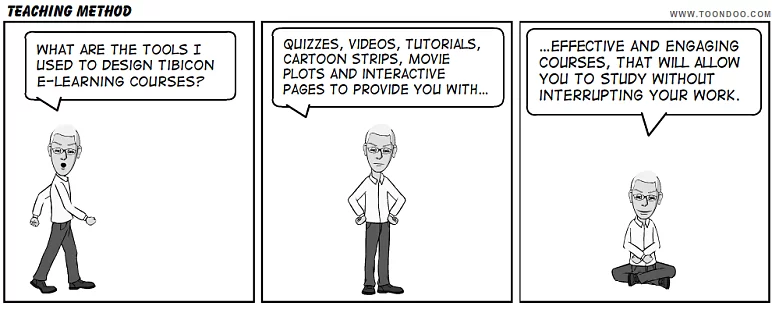 The tibicon e-learning courses are born with an ambitious purpose:
make the training experience in e-learning
as close as possible to that you can live in the classroom,
to offer you a unique learning experience.
During each course, Arduino (the teacher) and Arabella (his assistant) will guide you to discover the contents.
Here are the main features of the courses:
they are designed to be a pleasure for the people who choose to attend;
video clips, cartoon strips, quizzes and exercises will make your study engaging and enjoyable;
you will be able to learn on your own subjects that are essential for your professional growth;
they are designed to help you discover aspects that are relevant to your personal and professional growth;
the courses include different sections, and you can study even when you only have 15 minutes: you will automatically pick up where you left off;
the teaching method is the same that Arduino has successfully tested in the classroom;
you can talk to the teacher to ask questions and discuss specific topics;
you will have a lot of learning material, that you can download for future use;
at the end of the course, you will download a certificate of attendance, once you pass the final test.
The tibicon e-learning courses can be used to meet specific needs:
training programmes entirely managed in e-learning mode;
blended training courses (e-learning plus classroom sessions);
individual, group and organisational coaching programmes;
to give efficiency/effectiveness to a training programme, reaching your goals in less time.
Do you want to know the title and content of the courses? Click here.
Would you like to know more? Please write to me using the form here below.