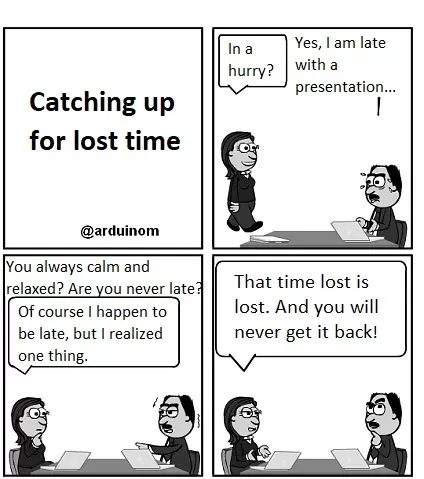 Introduction
Time management training courses are often limited to help you use the agenda and teach you more or less sophisticated priority-setting techniques.
This training course deals with the subject in a completely different way, helping you to answer questions such as:
How do I use my time?
How many types of time do I encounter during my day?
What is the most valuable type of time?
How can I get the most of it?

Aims
This training course aims at helping you to define a strategy of managing time that will allow you to improve personal performance and contribute substantially to the organisational functioning.

Who should take this course?
The course is intended for all roles in the organization.

Contents
The most common errors in time management
Never do now what you can do later. Or tomorrow!
Why you can always find a good reason not to set priorities
When you're in a hurry, do you always know where you're going to?
For what reasons we do not take the time to save… time!
The social network trap
The trap of the illusion of being multitasking
Time and awareness
Private time and professional time: what are the boundaries?
Identify the different forms of professional time
Define priorities among the various kinds of professional time
Define your time management strategy
How to deal with time management
Peculiarities of time management: before doing, think!
Is it better to continue cutting the tree or sharpening your saw?
Would you attend a marathon without training?
Meetings: a tool or a tragedy?
We always know when meetings begin, never when it is going to end
Guidelines to set the agenda
Tips to end a meeting within the scheduled time
If your boss makes you waste time…
… are you sure it's all his fault?
Tips for managing your boss
My very personal strategy for managing the boss
If your colleagues delegate their work to you…
… what are you doing?
Tips for not accepting inappropriate delegation
How to "convince" colleagues to take their responsibility and improve their performance
Tools to improve time management
Are you sure you know how to manage your agenda effectively?
The priorities: are they the real ones
Listening and taking notes: tools we don't use enough
Tools you can use to speed up the solution of a problem
Tips for managing priorities and activities more effectively

What about the learning material?
Course slides
Exercises
Articles about time management
Cartoon strips
Recommended movies and books

Teaching method
This course has been designed and structured to promote complete immersion in the topic and the individual experience
The participants will face situations through exercises and video clips that reproduce moments similar to the ones they face daily.
Would you like to know more? Click here.

Final test and certificate
At the end of the course, participants take a test; after passing it, they may download their certificate of attendance.

Duration
Sixteen hours or more.