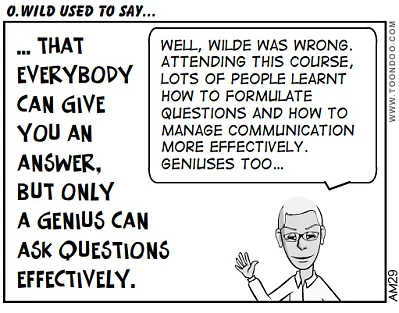 Introduction
It is a common belief that power is in telling others what to do. Actually, strength lies in knowing how to structure questions that can help you get the information you need and help you maintain control of communication.

Who should take this course?
The topics are of general interest: salespeople, lawyers, project managers, consultants, recruiters, managers, designers, negotiators, team leaders, service technicians and researchers are but a few of the professional profiles that might be interested.
People determined to increase efficiency and effectiveness in communication may find this course engaging: the course is helpful in negotiation, teamwork, R&D, problem-solving, conflict management and in any situation where communication is critical.

Aims
The course aims at helping learners to improve their ability to formulate questions to achieve specific goals in different contexts, retaining control over communication and improving their questioning skills.
Contents
Open and closed questions: when to use the two types of question
Open and semi-open questions: uses and formulation techniques
When to use the open question to get the information you need
Let's find out the link between open question and motivation
Closed questions – Clarification, comprehention check and paraphrasing
On what occasions you'd better not to ask … «why.»
Tips for finding out if a person knows what you don't know
The use of questions in problem-solving
Tips to discover the power of your… shoes
The questions you should ask yourself when learning

What about the learning material?
During the course you will use the following learning material, that you can download for future use:
Course slides
Examples of different types of questions
Articles about effective communication
Glossary with the main terms used in the course
Cartoon strips
Recommended movies

Teaching method
This course has been designed and structured to promote complete immersion in the topic and the individual experience
The participants will face situations through exercises and video clips that reproduce moments similar to the ones they face daily.
Would you like to know more about the teaching method? Click here.

Final test and certificate
At the end of the course, participants take a test; after passing it, they can download their certificate of attendance.

Duration
8 o 16 hours:
16 hours if the course takes place entirely in the classroom;
8 hours if participants attend the e-learning course The power of questions before the classroom sessions, using the time spent with the teacher to deepen the more complex topics.