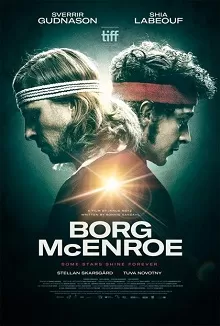 The film revolves around the 1980 Wimbledon Tournament final (the actual tennis world championship on grass) and how the two protagonists, the Swedish Bjorn Borg and the USA's John McEnroe, got there.
The two young men, at the time 24 Borg and 21 McEnroe, were ranked first and second respectively in the world rankings.
Their rivalry sparked the imagination of the press and the public: the Swede had already won Wimbledon four times, but the American was on the rise and had a superior tennis technique.
The differences between the two were also highlighted by their attitudes on the court: McEnroe was irritable, indisciplined and quarrelsome, while Borg was cold and impenetrable, apparently even when he was winning an important match.
But was that really the situation?
Were these indeed the traits of the two tennis players?
The film gives us an image of the protagonists that is closer to reality; it lets us watch the first tennis shots of a very young Bjorn, who was all about controlling the anger that assailed him at the first contrariety, and the childhood of a John who was more composed and balanced than he would have turned out to be as an adult.
In short, the film reveals unknown aspects of the protagonists; now watch the trailer, then I will tell you why I recommend you see the film.
How to watch the film
"Borg McEnroe" is a vibrant, palpitating film that maintains a good rhythm without stealing time to introspection.
Nothing is what it appears to be. This seems absolutely adequate to describe the surprising psychological description of the protagonists:
a vulcanic Borg and a McEnroe rather good at keeping his concentration.
Very interesting is Borg's relationship with his coach, Lennart Bergelin (former tennis player and Sweden's Davis captain), the man who understands Borg's qualities and who guides him during his very short career, until his retirement in 1983: those who deal with coaching professionally will find food for thought.
But the thing that struck me most was the extreme fragility of two young men whom the world regards as semi-gods capable of unrepeatable achievements, and who are instead dealing with their anxieties and their fears:
two young men, like so many others, in search of an adult dimension that they are struggling to find.
Not to be missed.
Cast
Sverrir Gudnason, Shia LaBeouf, Stellan Skarsgård, Tuva Novotny, Robert Emms, David Bamber