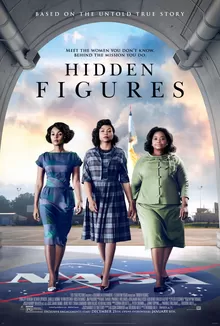 Plot
The film is based on the book Hidden Figures – The Story of the African-American Women Who Helped Win the Space Race by Margot Lee Shetterly.
The main character is Katherine Johnson, an African-American mathematician who in 1961 played a fundamental role in the Apollo 11 mission, which on 20 July 1969 took the first man to the moon; her task was to calculate the trajectories during the take-off and re-entry phases of the spacecraft.
At her side, we find two colleagues and friends:
Dorothy Vaughan, who unofficially coordinates a team of women who have calculation tasks (in 1961 not yet managed by computers);
Mary Jackson, who is particularly comfortable with calculations; Mary has a dream: to get a degree in engineering and contribute to her country's space missions.
The three women, all black, work for NASA (National Aeronautics and Space Administration) at the Langley Research Center in Hampton, in segregated Virginia; every day, they face a racist environment for which people's intelligence and professional background depend on the colour of their skin.
The film is attractive for some reasons:
it tells us the story of black-skinned women in the 1960s who managed to make their way through prejudice and sexual discrimination;
it shows a clear example of how resistance to change can lead to neglecting essential aspects: to make an innovative computer such as an IBM 3270 work, it is crucial to have trained people.
I won't tell you more about the plot: once you watched the trailer, I will tell you which aspects of the film I found most interesting.
What you can learn from this film
It is interesting to note that NASA did not realise that a computer like the IBM 3270 needs people capable of running it; in short, NASA bought a car without considering that it would need to hire a licensed driver.
A clear example of unconscious resistance to change.
And it will be the determination to change and defend the job that will save the trajectory calculation and perhaps the entire space programme.
Dorothy Vaughan is worried because she has realised that the supercomputer will make the whole team of women dedicated to numerical calculations redundant; hence, she decides to learn secretly to program in Fortran and train her colleagues.
Dorothy's decision is interesting for two reasons:
it proves to be providential for NASA, which will count at the right time on 30 programmers that it had not expected and without whom the space programme would have collapsed;
it is an example for those who struggle to cope with change and fight to maintain the status quo.
The theme of the 'quasi-leader' is also interesting; Dorothy coordinates a rather large group of women, but her role is not formally acknowledged: she is a woman, and her skin is black.
A criticism?
The racial theme is a bit "overloaded", perhaps to capture the audience's interest: the events involving the three main characters are so intense and involving that more realism would have benefited the story.
Not to be missed, especially if a film should also be a learning opportunity for you.