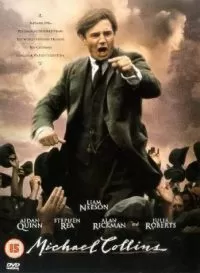 In 1916, during the rebellion known as the Easter Rising, the Irish revolutionaries surrendered after opposing the overwhelming military force of the British army for six days at Dublin Postal Headquarters.
Among the revolutionary leaders, only Eamon de Valera, an American citizen, is spared the execution squad. Many followers, including Michael Collins and his friend Harry Boland, end up in prison, and once released they find themselves to be the new leaders of the Irish independence movement.
Collins throws himself into the political and military struggle against British rule by travelling the country and making proselytes with his speeches of high effectiveness and with his magnetic personality.
After a violent clash with the Irish royal police, her wounds are healed by Kitty Kiernan, a young woman whose beauty and independence attract both Collins and Boland.
Collins organises a fearless secret group – the Irish Volunteers – that launches attacks against the British army and police. The British are unable to catch Collins, who rides openly around Dublin by bicycle, sorting his troops and arming them as never before.
De Valera travels to America, trying to get support for the Irish cause, taking Harry Boland with him. During their absence, Collins and Kitty fall in love. Returning from the United States, De Valera insists that Collins go to London to negotiate with the government, although he does' feels to be a political negotiator.
Unexpectedly, Collins returns from London with a deal that establishes the birth of the Free State of Ireland.
Unfortunately, it requires an oath of loyalty to the British Crown: the agreement is approved strictly by the Irish Parliament but rejected by De Valera, who abandons the Parliament with his followers.
The civil war then reappears, but I will not tell you more about the story.
Now look at the trailer, then I will focus on the aspects of the movie that I find interesting.
The crucial points of the movie
Michael Collins is one of the leaders of Irish independence.
This movie portrays a man who fought for his country, playing the role of a guerrilla and a negotiator at different times.
The aspect that I found interesting is the dynamics of the relationship between Micheal Collins and Eamon De Valera, head of the Irish nationalists:
Can a boss accept that his staff member can achieve better results?
What respect does the staff member owe the boss who doesn't let him " flourish"?
What does a boss have to do when he perceives that his staff member is more loved?
And how should he behave when he gets better performances?
Michael Collins and Eamon De Valera live together in a complicated way, in which political objectives, the search for leadership and personal identity are mixed in an indistinct whole.
As you have certainly understood, this movie has to be watched paying attention to the dynamics of the relationship between boss and employee.
Don't miss it!
Cast
Ian Hart, Julia Roberts, Richard Ingram, Liam Neeson, Aidan Quinn, Liam D'staic, Michael Dwyer, Brendan Gleeson, Stuart Graham, John Kenny