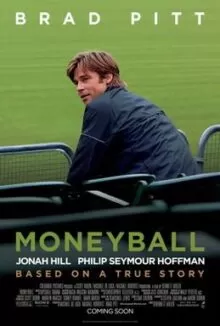 The film is based on the sports case of the Oakland Athletics baseball team and their general manager Billy Beane.
The story begins in 2001 when the Oakland Athletics missed the opportunity to participate in the final round of the World Series against the New York Yankees.
Billy Beane's re-launch of the team becomes complicated because three key players (Jason Isringhausen, Jason Giambi and Johnny Damon) leave the team at the end of the season and the company denies him the extra budget that would allow the team to be more competitive.
Yet during a meeting with Cleveland Indians managers, Billy meets Peter Brand, a 25-year-old Yale economics graduate with innovative ideas about players evaluation criteria; instead of relying on intuition and experience, he evaluates a player on the basis of statistical data and key performance indicators (KPI): a central role is occupied by the On Base Percentage (OBP), which indicates the number of times a player gains a base without penalty aid.
The observers of the Athletics are strongly sceptical, also because the new method would make the most of them useless.
Within the team serious conflicts arise, especially with Art Howe, the coach, also because of Beane's resistance to renew his contract.
But the general manager shoots straight by adopting Peter Brand's proposed indicators and challenging Howe, who refuses to let the players selected according to the new management strategy play.
How does the story end?
Well, all you have to do is watch the film.
For now, take a look at the trailer then, as usual, I'll tell you why in my opinion the story it's worth your attention.
How to watch the film
A film that, independently from the many Oscar nominations, offers food for thought:
As evident in several moments of the story, resistance to change often reveals itself as diffidence toward what is new and what threatens acquired positions or even privilege;
The chance of achieving the desired results increases when you have the ability and/or courage to deploy all available resources. In this case, in addition to experience and budget, information regarding performance is a key factor;
The evaluation of people should not be based on stereotypes or prejudices;
When appraising performance, it is essential to consider that specific situation may depress performance or enhance it beyond limits sustainable over time;
The courage to pursue new paths, never beaten before, can lead to results that create a significant advantage over competitors; an advantage that cannot be easily matched.
A must-see film? Of course!
And you will discover why the first to cross the wall is always bloody!
Cast
Brad Pitt, Jonah Hill, Philip Seymour Hoffman, Robin Wright, Chris Pratt, Stephen Bishop, Reed Diamond, Brent Jennings, …