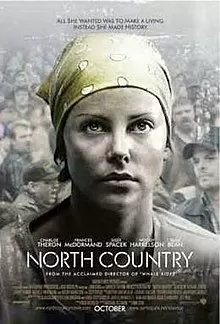 Josey Aimes is a young woman who married a violent man.
After yet another fight followed by beatings, Josey escapes with her two children, Karen and Sam, to return to her hometown in northern Minnesota and seek hospitality and help from her parents.
However, the woman's life is not simple: her job as a hairdresser doesn't enable her to support her children and the atmosphere in her parents' home is rather tense, as her father has never forgiven her the youth's mistakes (Karen and Sam are born from different fathers).
That's how Glory, an old friend, suggests her to go to work in the mine: a hard work that would allow her to maintain her children with dignity.
Josey accepts her friend's suggestion and a very hard period begins: next to her new economic stability she can experience a working environment where women have to accept abuse, threats and mistreatment.
Over time, events will convince the woman to take legal action against the company; in this period will emerge both the ghosts of the past she wanted to bury and the darker aspects of the female condition in certain social environments.
Why watch the film?
Charlize Theron and Frances McDormand's performance already represent a very good reason: here is the trailer, then we will make some comments.
How to watch the film
Many aspects will catch your attention:
violence, in all its forms, on women as an ordinary component of the life of a couple, tolerated both in the family and in the social environment;
discrimination in the workplace that takes the most abject forms of the glass ceiling – the invisible barrier that makes it very difficult for women and minorities to advance in their careers;
the difficulty for those who experience violence and discrimination against their wives and daughters, but are unable to oppose conformism;
the communication able to touch deep chords and make the sense of justice buried by "common sense" emerge;
aggressiveness as a tool to hide fears, fragility and even remorse;
the love of a mother, who accepts any kind of suffering to support her children.
For 126 minutes your eyes will be glued to the video – I promise!
Cast
Charlize Theron, Frances McDormand, Woody Harrelson, Richard Jenkins, Sissy Spacek, Sean Bean, Thomas Curtis, Elle Peterson, Jeremy Renner