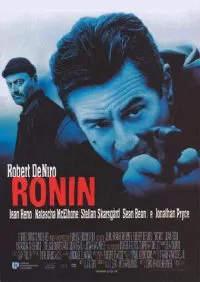 Five people, with no previous contact between them and experts in arms, spying, intelligence and jobless after the process of relaxation following the end of the Cold War, meet in an old warehouse in the heart of Paris.
The five are hired for their experience:
Sam is an expert in weapons and military strategies;
Larry is a very skilled pilot, Spence is a specialist in weapons of all kinds;
Gregor is competent in the electronic systems;
Vincent is responsible for coordinating the task;
then there is a woman, Deirdre, the only one who has contact with the commissioners.
The aim is to steal a briefcase protected by sophisticated security systems. No one knows who ordered this action or what the contents of the briefcase are. To organise the mission, the group must, therefore, work in insecure conditions that create dissatisfaction and tension.
Sam soon becomes the leader of the small group, determined to complete the task for which he has assumed responsibility. Between misunderstandings and intense discussions, the plan kicks off.
The owners of the briefcase are being chased through the streets of Paris. A terrible hand-to-hand shooting follows, in which Seamus, an Irish terrorist, perhaps the recipient of the briefcase, is also killed.
Everything is over.
Sam and Vincent return in the bar where they met at the beginning of the story, waiting for Deirdre to arrive.
Here I stop with the story, before discussing the key points of the movie, I invite you to watch the trailer.
The crucial points of the movie
More than the screenplay and the acting of the singles, I appreciated the movie for the following factors:
the quality of the dialogues aimed at discovering the contents of the case;
the management of the conflict generated between individuals;
the constant concentration on the moves that the opponent will make.
You must see it.
Cast
Sean Bean, Robert De Niro, Michael Lonsdale, Natascha McElhone, Jonathan Pryce, Jean Reno, Stellan Skarsgård, Skipp Sudduth.