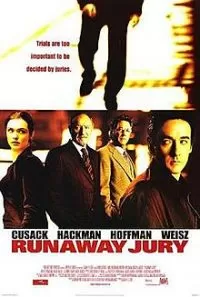 The film is set in New Orleans and based on a novel by John Grisham.
A recently fired employee enters his old office and shoots madly. Two years later, the widow of one of the victims sues the company that produced the weapon used for her husband's murder.
The process risks compromising the interests of the gun manufacturers, who come together to influence the jury by hiring Rankin Fitch, a consultant for the composition of the juries: "Trials are too important to be left in the hands of the juries" is his motto.
The prosecution is supported by the lawyer Wendell Rohr, who clashes with a fierce and numerous college of defence, heavily influenced by Rankin Fitch and paralysed in thought by the conviction of winning.
Among the jurors is chosen Nicholas Easter, a supermarket clerk passionate about video games who does everything to be excluded, but which the judge imposes to be part of the jury.
Although former Marine Frank Hererra seems to be the ideal head of the jurors, Easter's persuasive ways lead the other jurors to choose the blind Herman Grimes. From the very beginning, Fitch has been wary of Easter, and his suspicions are confirmed when Marlene, Easter girlfriend, contacts him to offer the verdict in exchange for money.
The film is a continuous sequence of twists, in which the desire for revenge and justice are mixed, and the aims of the characters are not always clear.
I don't want to tell any more, so as not to take away the taste at the end: I tell you that every now and then I like to see this movie again.
Here I stop with the story, before discussing the key points of the movie, I invite you to watch the trailer.
The crucial points of the movie
The movie is a real accusation against the sale of weapons in the U.S. to private individuals and the lobbies that support it.
A must-see film, for anyone interested in techniques for asking questions, influencing people and restructuring the communication context.
Enjoy!
Cast
John Cusack, Gene Hackman, Dustin Hoffman, Rachel Weisz, Jennifer Beals, Jeremy Piven, Cliff Curtis, Bruce Mcgill, Nick Searcy, Bill Nunn