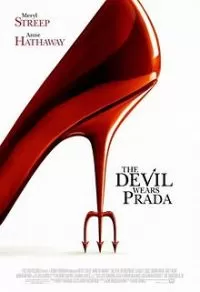 Plot
Andrea Sachs is a twenty-three years old aspiring journalist, with a degree in her pocket and with the dream of writing for "serious" magazines and newspapers, certainly not like fashion magazines.
However, in her search for a job that will let her earn a living before achieving her professional dream, Andrea overcomes the selections to become the second assistant to Miranda Priestly, director of the most influential fashion magazine in the USA and the most powerful in the world.
Andrea and Miranda are the protagonists of a story that unfolds between personal and professional conflicts, the desire to honour one's talent and the determination to successfully manage the relationship with an extremely tough and demanding boss.
A comedy that allows you to watch an authentic example of leadership from a powerful woman and the complexity of the relationship between boss and staff member.
The film is based on Lauren Weisberger's best-selling novel of the same name.
Want to know more?
Now watch the trailer, then I'll tell you why this film is worth your time.
The crucial points of the movie
The film offers an extraordinary and realistic example of the female practice of leadership and power; Miranda Priestly shows behaviours that commonly identify the leader, but that seems unusual when a woman shows them.
The question arises: why a leadership style seems acceptable in a man, but disorientating when a woman shows it?
The film reveals many other interesting aspects to which I wish to draw your attention:
the dynamics of the relationship between boss and staff member, and the strategies that the latter is able to implement;
praise (few) and reprimands (many) masterfully exemplified;
the boss adopting a 'sink or swim' style and the staff member successfully resisting, gaining esteem and trust;
the staff member works in an environment in which she does not feel comfortable and the discrepancy between personal and corporate vision is evident;
the value of trust and friendship between colleagues, which can offer invaluable support in difficult times;
the role of charm in career and personal success.
From these perspectives, I find the film unmissable.
To end this film review, I have a question for you: what leadership style do you expect from a woman?

Cast
Anne Hathaway, Meryl Streep, Adrian Grenier, Simon Baker, Stanley Tucci, Tracie Thoms, Emily Blunt, Eric Seltzer, Rich Sommer, Stephanie Szostak