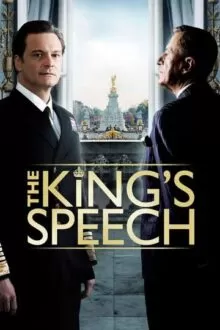 The film is based on the story of King George VI and his relationship with speech therapist Lionel Logue, who helped him manage his stutter, thus enabling him to cope without much hassle with the obligations the role imposed on him.
Now a bit of plot.
In 1925, Prince Albert, Duke of York and second son of King George V (whom he would succeed as George VI), gives the keynote address at the Empire Exhibition at London's Wembley Stadium.
The prince's evident stuttering is a cause of great embarrassment and causes great discomfort to the thousands of people, present at the stadium or listening to the radio speech.
After unsuccessfully attempting to overcome the problem with various therapies and consulting countless experts, the prince chooses to give up making public speeches: since Albert is second in line to the throne the issue does not represent a state problem and he can devote more time to his family (wife Elizabeth and daughters Margaret and Elizabeth, the future Elizabeth II).
However, in the Royal Family, discontent is by no means overcome, mainly because of the authoritative attitude of King George V, who takes favourable opportunities to emphasize or bring up Albert's speech problems.
One day, his wife Elizabeth, who had never resigned herself to her husband's stuttering, went to the office of Lionel Logue, a therapist experienced in speech problems; she introduced herself under an assumed name and asked the specialist to help Prince Albert.
Here begins an intense, difficult, empathic, edgy relationship that will lead the future king to overcome his stuttering and to a friendship that will last for the protagonists' entire lives: here my story stops, so as not to take away your enjoyment of watching the film.
Extraordinary performances by Colin Firth, King George VI, and Geoffrey Rush, as Lionel Logue, the speech therapist. The film is British and won four Oscars out of 12 nominations: Best Picture, Best Director, Best Leading Actor, and Best Original Screenplay.
Now the trailer, then I will tell you why I think you can't miss it!
How to watch the film
The film should be seen by anyone who is involved in coaching or intends to use this service, in a private or professional role.
The goal setting, the method identification, the structuring of the work, the management of the different phases and the alternation of feelings that accompany them are in the film admirably represented.
But what I would like to emphasize is the time of choosing the coach, with whom the person will have to define times and ways to achieve the desired goals: contrary to what is believed by many (more or less instrumentally), it is the coachee who chooses the coach, who can never be imposed.
See it now!
Cast
Colin Firth, Geoffrey Rush, Helena Bonham Carter, Guy Pearce, Jennifer Ehle