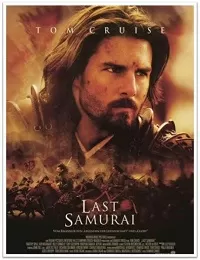 The film was set in Japan in 1876.
Captain Nathan Algren is a man adrift. The battles he once fought now appear distant and useless; he risked his life for loyalty to his country, but since the Civil War the world has changed.
Pragmatism has taken the place of courage, personal interest prevails over the sacrifice and the sense of honour no longer exists, especially in the West.
Somewhere Algren has lost his soul.
In a distant universe, another soldier sees his world fall apart. It is Katsumoto, the last heir of a dynasty of warriors, the Samurai, who have devoted their lives to the service of the Emperor and Japan. Just as modernity has upset the West, expropriating and banning Native Americans, so has it overwhelmed traditional Japan. The telegraphic and railway lines that brought progress now threaten those values and codes for which the Samurai have sacrificed themselves for centuries. But Katsumoto will not leave without a fight.
The paths of these two fighters meet when the young Emperor of Japan, flattered by American interests, entrusts Algren with the task of educating a new army. But when the Emperor's advisors try to eliminate the Samurai and open the way to a westernised government, more open to business, Algren is unexpectedly influenced by the strength of their convictions.
In an unknown and hard land, the American soldier finds himself in the middle of a violent struggle between two eras and two worlds.
Want to know more? Now watch the trailer, then I'll tell you why the movie is worth your time.
The crucial points of the movie
The film shows different leadership models:
the uncertain leadership of the young emperor, unprepared to lead a nation in strong transformation;
an emperor who falls victim to the interests of the councillors and does not have the strength to listen to who wants to support him with loyalty (Katsumoto);
the leadership of the last samurai made up of "good" values that strengthen it;
the "bad" leadership of the emperor's advisers, who base the ties with their followers on a change that will bring wealth through the destruction of the country's cultural heritage.
It is interesting to follow the growth of the bond between Nathan Algren and Katsumoto and Nathan's progressive metamorphosis, to newly discover his identity.
Cast
Tom Cruise, Ken Watanabe, Tony Goldwyn, Hiroyuki Sanada, Billy Connolly, Kuyuki Harada, Shichinosuke Nakamura, Masato Harada, Togo Igawa, Shin Koyamada