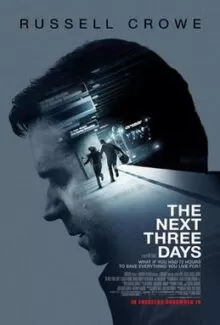 After a "lively" evening at the restaurant, Lara and John Brennan come back home, where they find their little son Luke, now at bedtime, being cared for by the babysitter.
The next morning the family prepares for an ordinary day at work: Lara in her office, John at the college where he teaches, and Luke at school.
But the day takes an unexpected direction; the police break into their house and Lara is arrested on charges of having committed murder: she is alleged to have killed a woman, her boss, with whom she had a heated argument the previous afternoon.
The evidence against Lara is overwhelming and a life sentence inevitable.
However John, firmly persuaded of the innocence of his wife, does not surrender and continues to seek evidence to clear her name: without success.
After three years, the hopes of reopening the trial are lost and the man is faced with a crossroads: raise little Luke alone or let Lara escape.
John chooses the second option.
I don't tell you more about the plot, because I do not want to spoil the pleasure of watching a film rich in content and adrenaline.
Now the trailer; then the reasons, not obvious at all, why I suggest you watch the film.
How to watch the film
Some topics can be regarded as old-fashioned, such as a man's love and trust for his wife and his refusal to accept the idea to live without her; however, these are topics that director and screenwriter Paul Haggis handles with a sensitive and essential touch, without falling into the trap of easy sentimentalism.
The theme of the common man who undertakes a task that seems beyond his strength, and then succeeds thanks to his determination, is also not new; but Haggis has the merit of proposing this aspect without removing the protagonist from the shoes of the common person.
What can you find truly remarkable in the film, then?
Those who work in or for organizations will find aspects that I've rarely seen treated so cleanly and effectively:
Determination is not enough to achieve your goals. It is essential to have impeccable preparation, involving all aspects of the business you are planning to undertake, not just the most immediate or complex ones;
No one organization is perfect. Even those that appear infallible have weaknesses that the attentive eye can detect: how? The management of emergencies or just the unexpected is always a difficult test, even for organizations that seem to have stainless processes: observing the behaviour of people on these occasions can be enlightening;
When facing a complicated situation, it is essential to keep the focus on "what's going on outside" rather than on the fears and worries that grip us, because we can only do one thing at a time: and if we focus on the fears, we will hardly be able to focus energy and attention on our goals.
A simply must-see film.
Cast
Russell Crowe, Elizabeth Banks, Olivia Wilde, Liam Neeson, Brian Dennehy, Helen Carey, Ty Simpkins