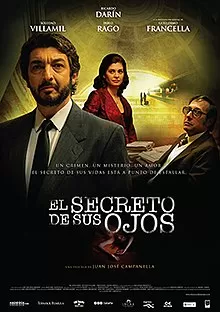 The Secret in their Eyes (original title "El Secreto de sus Ojos") is a film from Argentina that won the Oscar for Best International Feature Film in 2010; not to be confused with the USA remake shot in 2015.
The story is set in Argentina in 1999 and employs the novel-writing technique of flashback; a flashback that starts in 1974, when Benjamín Esposito, a federal courts investigator, begins to investigate the murder of a young woman, Lilliana Morales Colotto, who was brutally raped and murdered in her home in a Buenos Aires suburb.
The woman's husband is destroyed by grief, and Esposito promises he will bring the killer to justice; the protagonist is aided by Pablo Sandoval, his assistant and alcoholic, and supported by the new chancellor Irene Menendez-Hastings.
The story unfolds over 25 years, leaving in the background the military dictatorship and the tragedy of the Desaparecidos, whose presence is nevertheless palpable throughout the film; like a guest you decide to leave outside the door because he would draw all the attention to himself, preventing you from living an evening according to the original plan.
I was impressed by the bravura of the actors, whom I had never seen on screen before, all capable of enhancing a subject unravels throughout the film by skillfully interweaving the evolution of the investigation and the private lives of the characters, landing in an unexpected ending.
Unexpected? Or maybe not…
Before going on, watch the trailer, and then I will proceed by giving you excellent opportunities to watch the entire film.
How to watch the film
Countless angles and food for thought.
Let's look at the key ones:
The director shows different moments of love in a couple's life: the grief after a loss, the marriage preparation, the latent love between boss and staff member, the violent passion, the conflict arising from alcoholism. All with essential features and without ever lapsing into over-sentimentality;
the ability to unfold in a few minutes, and as I had never been able to observe, the concept of passion and how much it is capable of driving people's actions;
very different aspects of the relationship between boss and staff member, especially when the woman is the boss: trust, delegation, support, prejudice;
a magnificent example of the restructuring of the communication context, which you can observe in the interrogation scene;
the conflict between colleagues and the cost of not conforming to the rules dictated by the people in power;
friendship and the sacrifice of which it can be capable.
With an ending that will amaze you without surprising you.
Did I manage to intrigue you?
Cast
Ricardo Darín, Soledad Villamil, Pablo Rago, Javier Godino, Guillermo Francella, José Luis Gioia, Carla Quevedo