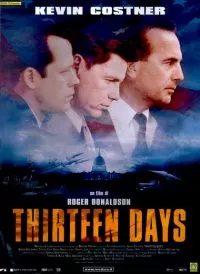 In October 1962, photos taken from U-2 revealed that the Soviet Union is about to install nuclear weapons in Cuba, which would have the ability to wipe out the United States in the south and east coast.
President Kennedy and his advisors must plan action to counter the Soviets.
JFK wants to prove that he is strong enough not to be subjected to blackmail by the Soviet Union; so the Pentagon prepares a possible new invasion of Cuba.
But the President is reluctant to invade the island, as it would push the Soviets towards Europe.
How to avoid a nuclear conflict without invading Cuba?
Here I stop with the story: before discussing the key points of the movie, I invite you to watch the trailer.
The crucial points of the movie
Well, a movie to study rather than to see: a real training course.
Here you will find the most sophisticated communication techniques, the influencing of people, the management of a meeting, the delegation, the fundamental aspects of leadership and more.
Not to be missed.
Cast
Kevin Costner, Bruce Greenwood, Steven Culp, Dylan Baker, Henry Strozier, Janet Coleman, Stephanie Romanov, Bill Smitrovich, Walter Adrian, Ed Lauter