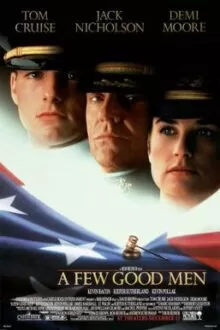 A U.S. soldier dies at the U.S. military base in Guantanamo, Cuba, and two of his fellow soldiers are charged with murder, found guilty of killing him in inflicting exemplary punishment.
A panel of lawyers led by Lieutenant Daniel Kaffee is formed to defend them, and he soon realizes that the death of Soldier William T. Santiago has other culprits, first among them Colonel Nathan R. Jessup, the base commander.
Kaffee's defence line is based on two points: the unintentionality of the murder and the two soldiers' willingness to execute a so-called "code red," an unofficial disciplinary measure ordered by a commander to punish Santiago.
The latter wanted to leave Guantanamo because, due to his temperament, he was harassed and ostracized by his comrades because he was considered a weak person; to achieve his purpose, Santiago intended to name one of the two defendants as responsible for the explosion of an unjustified rifle shot in return for his transfer from the base.
The film unfolds on the path of courtroom drama and rises in pace and intensity as the responsibilities of Colonel Nathan R. Jessup become evident.
For what reason do I bring the film to your attention? Not for the plot, which will keep you wide awake anyway, nor for the acting of the leads (with Tom Cruise paired with an evanescent Demi Moore, both overpowered by the bravura of Jack Nicholson), even less for the Oscar won.
Watch the trailer first, then I will tell you why I find the film interesting.
How to watch the film
I suggest you pay attention to three aspects:
the technique adopted to formulate the questions, especially in the courtroom, is a shining example of the application of closed questions in all their variety (comprehension check, clarification, paraphrasing);
the reaction of the military base commander as the accusations become not so veiled;
incredulity, annoyance, and difficulty in gaining awareness of the danger are traits that people of power often present when they are under attack, which you can observe here.
A film that will help you to substantially improve your ability to keep control of communication!
Cast
Tom Cruise, Jack Nicholson, Demi Moore, Kevin Bacon, Kiefer Sutherland, Kevin Pollak, James Marshall.
If you want to learn more about the use of the closed question, you may find useful the eLearning course The Power of Questions.