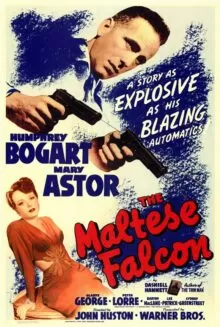 The Maltese Falcon is a film in which John Huston made his debut as a director: a film that the American Film Institute ranks among the top 25 of the 100 best movies of all time, and that many critics consider the best crime film of all time.
A few words about the story, which takes place in San Francisco in the 1940s. One day the charming Miss Ruth Wonderly goes to the office of private detectives Sam Spade and Miles Archer to ask them to find her sister who has disappeared, probably because of a certain Floyd Thursby, with whom she was having an affair.
After receiving a "generous" advance payment, they accept the job and Archer takes over the case.
The story soon crosses with that of the Maltese Falcon, a small statue set with the most precious stones of the treasure of the crusaders of the Sovereign Military Order of Malta, which they sent to Emperor Charles V of Spain for granting them the island of Malta; but the ship that carried it never reached its destination and the falcon, which anonymously passed through the hands of various merchants and collectors, was lost.
I'll stop here because, in a murder mystery, the plot is everything.
Why do I want to present this film to you? Watch the trailer first, then we'll talk.
How to watch the film
In addition to the suspenseful plot and the superb acting, the film is appealing for several reasons:
It is a great example of the application of promises and threats in the execution of strategic moves envisaged in game theory. Some moments clearly show how the credibility of the threat is crucial to achieving the required result and how envisioning the opponent's possible replies is vital;
an interesting example of the use of seduction as a means of dissimulating one's intentions and influencing the decisions of others to one's advantage;
the ability of the protagonists to maintain lucidity and critical thinking even when they are emotionally involved.
A must for anyone involved in negotiation for professional reasons.
All in all, 100 minutes very well spent.
Cast
Humphrey Bogart, Mary Astor, Gladys George, Peter Lorre, Barton Maclane, Lee Patrick, Sidney Greenstreet, Ward Bond, Jerome Cowan, James Burke