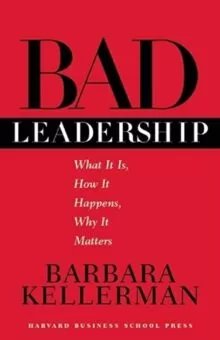 What do Radovan Karadzic, Vladimir Putin, Rudolph Giuliani have in common?
What characteristics distinguish former Mattel CEO Jill Barad, Levi Strauss CEO Robert Haas, and many other managers and politicians profiled in this book?
Beyond the significant differences among them, according to Barbara Kellerman they share what is known as "negative leadership": these people exert power, authority, and influence in ways and means that can be detrimental to the community.
It may be useful, before going on to review the book, to make a few remarks about a rather common idea of leadership: the kind of leadership that works intentionally for the common benefit, with courage; on the concept of good leadership, the English-speaking editorial business (but also that linked to consulting and training) developed a billion-dollar business worldwide.
According to this model, the successful leader has strong moral qualities, so
the real leader is "the good leader!"
The concept of good leadership is in line with the need to support self-esteem, to encourage people' tendency to recognize themselves in "good" values and to be consistent with them; behind positive leadership, there is a business based on the assumption that everyone can become a successful leader, nothing is excluded.
Although the term "leadership" has become synonymous with working for the common benefit, politics and economics provide us with numerous contrary examples, increasingly distant from the idea of the white knight that inhabits our imagination.
To explain the bad leadership concept, the author adopts a completely different perspective: the bad leader is not something aberrant, but simply the expression of the dark side of human nature, and as such must be fully understood.
The book ends up identifying the two fundamental categories of bad leadership: ineffective and anti-ethical.
Through numerous examples of both political and corporate leadership, Barbara Kellerman then outlines the seven models of the bad leader, with many enlightening examples (see below the index of the book):
incompetent;
rigid;
intemperate;
insensitive;
corrupt;
insular;
evil.
Concluding that
there are no bad leaders without bad followers
Written in a captivating style, "Bad Leadership" is a book that emphasizes the responsibilities of the leader and, by enlightening its hidden face, shows everyone the way to become a better leader (and/or follower).
Want to learn more? Listen to Barbara Kellerman's speaking about bad leadership.
Summary
Acknowledgments
Introduction – Webs of Significance
PART ONE – The Bad Side
Claiming the Bad Side
Reasons For Being Bad
Making Meaning of Being Bad
PART TWO – Leading Badly
Incompetent

Juan Antonio Saramanch
Abdurrahman Wahid
Jill Barad

Rigid

Mary Meeker
Robert Haas
Sumner Redstone
Vladimir Putin

Intemperate

Marrion Barry jr
Gary Hart
Jesse Jackson
James Bakker
Henry Lyons
William Bennett

Callous

Al Dunlap
Rudolph Giuliani
Leona Helmsley
Howell Raines

Corrupt

William Aramony
Vincent Cianci Jr
Mario Villanueva
Andrew Fastow

Insular

Bill Clinton
Lee Raymond
James W. Johnston

Evil

Radovan Karadzic
Saddam Hussein
Poil Pot
Jim Jones
David Koresh
PART THREE – From Bad to Better
Costs and Benefits

Costs
Benefits
Unifying constraints

Comments and Corrections
Notes
Index
About the Author