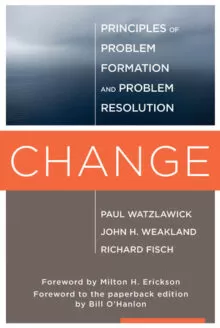 I have three questions for you. How many times have you tried to:
solve a problem without succeeding, and create an even more complicated situation?
bring real change to a difficult situation without succeeding?
use rational problem-solving techniques, miserably crashing into a persistent obstacle?
If your answer to at least one of these questions is NOT "Never!", then you may find my recommendation helpful.
The first time you walk into a bookstore, buy this book: Change – Principles of problem formation and problem resolution is a classic on change that Paul Watzlawick wrote with colleagues Fisch and Weakland of the Mental Research Institute in Palo Alto.
A book from which you can start a journey that will lead you to:
acquire techniques that will enable you to learn how to solve problems without creating new ones;
use the apparent nonsense of paradox to prompt the change you desire;
learn that the best solution to a problem is not to generate it.
With a warning: this book is not a manual and does not represent a shortcut, because the road to personal growth always requires hard work.
Listen to Paul Watzlawick's words on problem-solving strategies (the video is in German, with subtitles in English), then go to the table of contents.
Enjoy your reading!
Contents
Foreword to the paperback edition by Bill O'Hanlon
Foreword by Milton H. Erickson
Preface
Part 1 – PERSISTENCE AND CHANGE
Chapter 1. The Theoretical Perspective
Chapter 2. The Practical Perspective
Part 2. PROBLEM FORMATION
Chapter 3. "More of the Same" or, When the Solution Becomes the Problem
Chapter 4. The Terrible Simplifications
Chapter 5. The Utopia Syndrome
Chapter 6. Paradoxes
Part 3. PROBLEM RESOLUTION
Chapter 7. Second-Order Change
Chapter 8. The Gentle Art of Reframing
Chapter 9. The Practice of Change
Chapter 10. Exemplifications
Chapter 11. The Wider Horizon
References
Index