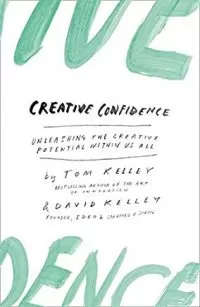 Today I present you a powerful and inspiring book from the founders of IDEO, the award-winning design firm, on unleashing the creativity that lies within each of us.
Too often, companies and individuals assume that creativity and innovation are the domain of creative types.
However, two of the foremost experts in innovation, design and creativity show us that every one of us is creative.
In this engaging and exciting book that draws on countless stories from their work at IDEO David and Tom Kelley identify the principles and strategies that will allow us to tap into our creative potential in our work and personal lives, will enable us to think outside the box in terms of how we approach and solve problems.
Creativity and innovation are like muscles: the more we use them, the stronger they get.
As kids, we were all creative, but over time, so many of us were discouraged in our creative endeavours and eventually focused our energies on a more traditional pursuit.
In Creative confidence, David and Tom Kelley remind us that creativity in a mindset, a way of thinking and a proactive approach to find new solutions.
We may not be all artists, but we can be more creative lawyers, doctors, manager or salespeople.
This book gives us the courage to make a difference in our companies and the world around us, helping to be more productive and successful in our lives and our careers.



Contents
INTRODUCTION – The heart of innovation
FLIP – From design thinking to creative confidence
DARE – From fear to courage
SPARK – From blank page to insight
LEAP – From planning to action
SEEK – From duty to passion
TEAM – Creatively confident groups
MOVE – Creative confidence to go
NEXT – Embrace creative confidence