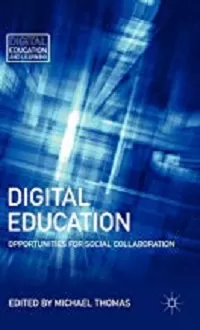 A collection of content-based chapters and case studies examining the pedagogical potential and realities of digital literacies in education.
The book aims to examine several foundational aspects of Web 2.0 technologies and social media applications to understand the implications for teaching, learning, and professional development.
"Digital Education introduces a healthy corrective to exaggerated techno-optimism or techno-pessimism. The thought-provoking edited collection represents one of the first serious attempts to examine how Web 2.0 may not only improve but also help transform education.
Contributors to the book bring a wide range of social theory to the task, and they apply this theory to examining incipient efforts to deploy Web 2.0 tools in a broad range of formal educational settings, especially at the tertiary and adult level.
Chapters from and about Australia, Canada, Germany, Indonesia, South Africa, Spain, the UK, the US, and Venezuela result in a diverse international discussion that is not common in educational research, and this breadth helps us to better understand the relationship of theory to practice.
The contributions in this book represent an especially broad and thoughtful overview of where we have come on these issues and where we stand today."
(Professor Mark Warschauer, University of California, Irvine)
A fundamental book for anyone who wants to understand the mechanisms of social business collaboration and the decisive role it can play in innovation processes.
Contents

List of Illustrations
Foreword
1) Digital Education: Opportunities, Challenges, and Responsibilities (Michael Thomas)

Part I – Theoretical Perspectives
2) Modified, Multiplied, and (Re-)mixed: Social Media and Digital Literacies (Mark Pegrum)
3) Research on Web 2.0 Digital Technologies in Education (Chaka Chaka)
4) The Role of Adult Educators in the Age of Social Media (Rita Kop and Paul Bouchard)
5) Educational Networking in the Digital Age (Cristina Costa)
6) Integrating Digital Technologies in Education: A Model for Negotiating Change and Resistance to Change (Thomas Berger and Michael Thomas)

Part II   Applying Digital Education
7) Virtual Learning Environments: Personalizing Learning or Managing Learners? (Philip Banyard, Jean Underwood, Lianne Kerlin and James Stiller)
8) Teaching Spanish in Second Life (Dafne Gonzalez, Cristina Palomeque, and Paul Sweeney)
9) "The Wisdom of Practice": Web 2.0 as a Cognitive and Community-Building Tool in Indonesia (Mary Burns and Petra Wiyakti Bodrogini)
10) Teaching Research Methods with Social Media (Kelli S. Burns)
11) Deconstructing Formal and Informal Learning Spaces with Social Networking Sites (Joannah Portman Daley)
12) Digital Education: Beyond the "Wow" Factor (Stephen Bax)
Notes on Contributors
Index