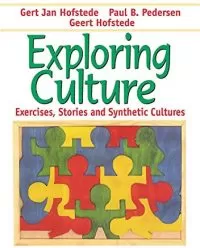 In a world increasingly interconnected, you can't afford to ignore the existence of cultures other than yours.
Why is that?
Here are a few questions for you:
How do you handle negotiating preliminaries with a person from the United States? And with a person from Japan?
What do you need to know before you decide to move to Spain?
Can you bring shoes when you are visiting a Finnish family?
If you invite a person to a restaurant in an Arab country, can you pay the bill without appearing rude?
What do you need to know about Argentinian habits and customs before you go there on vacation?
The management of multicultural aspects becomes more and more important both in personal and professional life.
To understand concepts that can help us manage complex situations, we may have to attend a long and specific training path, both theoretical and practical.
Exploring Culture, designed to be a tool for trainers, is also suitable for managers, coaches, students and educators.
I decided to present it to you because the book
will guide you through the critical aspects of multiculturalism
and will give you immediate access to the keys to understanding specific situations.
Exploring Culture brings Geert Hofstede's five dimensions of national culture to life.
Gert Jan Hofstede and his co-authors Paul Pedersen and Geert Hofstede introduce synthetic cultures, the ten "pure" cultural types derived from the extremes of the five dimensions: the result is a playful book of practice that is firmly rooted in theory.
I think that whoever deals with national cultures will find this book very valuable at several levels:
it provides a solid theoretical base for understanding and interpreting national cultures;
exercises, stories, and examples support the conceptual framework with practical, useful, real-world examples;
the layout makes it an easy-to-use and valuable reference book.
Part light, part serious, but always thought-provoking, this unique book approaches training through the three-part process of building awareness, knowledge, and skills.
It leads the reader through the first two components with more than 75 activities, dialogues, stories, and incidents; the Synthetic Culture Laboratory and two full simulations fulfil the skill-building component.
Exploring Culture is suitable for students, trainers, managers, coaches and educators; it can be used for individual study or as a text, and it serves as an excellent partner to Geert Hofstede's popular Cultures and Organizations.
Before going over the contents of the book, here is a short video with Gert Jan Hofstede speaking about the Perspective on Cultures.
Table of Contents
Foreword
Acknowledgements
Introduction
Part I: Stories and Exercises
Chapter 1: Worlds Apart in One Village
Awareness, Knowledge, Skills
What Do You See?
How Would You Feel?
What Would You Do?
Observation and Interpretation
Cross-Cultural Communication Barriers
Culture Shock
Exercises
Conclusion
Chapter 2: Culture: The Rules of the Social Game
The Best Country, a Fairy Tale
Five Basic Problems of Society
Major Aspects of Culture
Awareness of Culture Differences
How Would You Feel? (Revisited)
What Would You Do? (Revisited)
Attribution Exercises
Conclusion
Part II: Synthetic Cultures
Chapter 3: The Ten Synthetic Culture Profiles
How to Interpret the Profiles
Profiles: Identity Dimension
Profiles: Hierarchy Dimension
Profiles: Gender Dimension
Profiles: Truth Dimension
Profiles: Virtue Dimension
Conclusion
Chapter 4: Getting to Know the Synthetic Cultures
Cross-Cultural Encounters
Guess the Synthetic Culture
Work think
Synthetic Cultures versus Real Cultures
Conclusion
Chapter 5: Dialogues in Synthetic Culture Role
Dialogues: Identity Dimension
Dialogues: Hierarchy Dimension
Dialogues: Gender Dimension
Dialogues: Truth Dimension
Dialogues: Virtue Dimension
Conclusion
Chapter 6: Summing Up
Part III: Group Work and Simulations
Chapter 7: Group Work for Cross-Cultural Learning
Framework for Group Work
Synthetic Culture Acculturation Exercises
The Synthetic Culture Laboratory
Chapter 8: Using Synthetic Cultures in Simulations
Simulations on the Market
The Synthetic Culture Approach to Simulations
Selecting and Preparing for a Simulation
Introducing the Simulation
Facilitating the Simulation
Debriefing the Simulation
Chapter 9: The Trade Mission
Chapter 10: Follow-the-Sun Global Technology Team
References
About the Authors