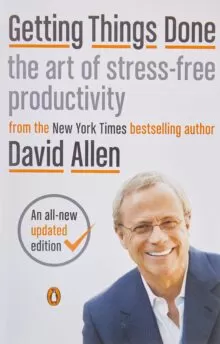 How do you manage your time?
Are you happy or do you think you can improve?
If time management is very tiring for you (but also if you are doing very well and want to get new ideas to do better), this book can be of great help to you.
In the book Getting Things Done (over 3 million copies sold), David Allen built the GTD method, which has influenced the way millions of people around the world work and manages time.
What is the aim of the book?
The author intends to help the reader to re-organize his everyday life (work, private, study, social life) and related activities, improving time management and the quality of the "things" produced.
Does the book achieve its intended purpose?
Is it really able, as the author claims, to change the life of all of us?
Can it help us reduce the stress we experience in dealing with the increasing volume of daily tasks?
The book is certainly the best book I've read on the subject of time management,
beating out competition from many who merely offer suggestions on agenda organization and priority management.
David Allen guides the reader through a well-structured journey:
first he takes him to gain awareness of his own areas of improvement;
then he helps him evaluate a set of tools and management methods that enable him to approach daily life with better focus.
And lowering the risk of making bad decisions and falling victim to events.
Below is a short video in which David Allen briefly explains his method.
A book without defects, then?
Not really.
I found some parts repetitive and, without them, the book would gain in readability and usability; I must also admit that returning with some regularity to the key concepts can help the reader to absorb the GTD method.
The reading and the constant application of the concepts that Allen proposes will certainly be beneficial to your time management and, ultimately, to the quality of your life.
To buy or not to buy?
Yes, and immediately!
Contents
Title Page
Copyright Page
Dedication
Acknowledgements
Part 1 – The Art of Getting Things Done
Chapter 1 – A New Practice for a New Reality
Chapter 2 – Getting Control of Your Life: The Five Stages of Mastering Workflow
Chapter 3 – Getting Projects Creatively Under Way: The Five Phases of Project Planning
Part 2 – Practicing Stress-Free Productivity
Chapter 4 – Getting Started: Setting Up the Time, Space, and Tools
Chapter 5 – Collection: Corralling Your "Stuff"
Chapter 6 – Processing: Getting "In" to Empty
Chapter 7 – Organizing: Setting Up the Right Buckets
Chapter 8 – Reviewing: Keeping Your System Functional
Chapter 9 – Doing: Making the Best Action Choices
Chapter 10 – Getting Projects Under Control
Part 3 – The Power of the Key Principles
Chapter 11 – The Power of the Collection Habit
Chapter 12 – The Power of the Next-Action Decision
Chapter 13 – The Power of Outcome Focusing
Conclusion
Index