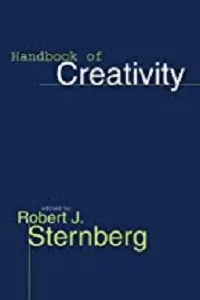 The goal of the Handbook of Creativity is to provide the most comprehensive, definitive, and authoritative single-volume review available in the field of creativity.
To this end, the book contains 22 chapters covering a wide range of issues and topics in this field, all written by distinguished leaders: psychometric approaches, creative cognition, creativity across cultures, motivation and creativity, etc. (see the table of contents for more).
The chapters are intended to be accessible to all readers with interest in creative thinking.  Although the authors are leading behavioural scientists, people in all disciplines will find the coverage of creativity in the arts and sciences to be of interest.
The volume's first part sets out the major themes and reviews the history of thinking about creativity. Subsequent sections deal with methods, origins, self and environment, special topics, and conclusions.
Robert J. Sternberg is Professor of Psychology and Education at Yale University.   He is a Fellow of the American Academy of Arts and Sciences and has served as President of the Divisions of General Psychology and Educational Psychology in the American Psychological Association.
Contents
List of Contributors
Preface
PART I – INTRODUCTION
1) The Concept of Creativity: Prospects and Paradigms (Robert J. Sternberg and Todd I. Lubart)
2) A History of Research on Creativity  (Robert S. Albert and Mark A. Runco)
PART II – METHODS FOR STUDYING  CREATIVITY
3) Psychometric Approaches to the Study of Human Creativity  (Jonathan A. Thicker and Joseph S. Renzulli)
4) Experimental Studies of Creativity (Mark A. Runco and Shawn Okuda Sakamoto)
5)  The Case Study Method and Evolving Systems Approach for Understanding Unique Creative People at Work (Howard, E. Gruber and Doris B. Wallace)
6)  Creativity from a Historiometric Perspective (Dean Keith Simonton)
PART III – ORIGINS OF CREATIVITY
7) Biological Bases of Creativity (Colin Martindale)
8) Evolving Creative Minds: Stories and Mechanisms (Charles J. Lumsden)
9) The Development of Creativity (David Henry Feldman)
PART IV – CREATIVITY,  THE SELF, AND THE ENVIRONMENT
10) Creative Cognition (Thomas B. Ward,  Steven M. Smith, and Ronald A. Finke)
11) From Case Studies to Robust Generalizations: An Approach to the Study of Creativity (Emma Policastro and Howard Gardner)
12) Creativity and Knowledge: A Challenge to Theories (Robert W. Weisberg)
13) Creativity and Intelligence (Robert J. Sternberg and Linda A. O'Hara)
14) The Influence of Personality on Artistic and Scientific Creativity (Gregory J. Feist)
15) Motivation and Creativity (Mary Ann Collins and Teresa M. Amabile)
16) Implications of a Systems Perspective for the Study of Creativity (Mihaly Csikszentmihalyi)
PART V SPECIAL TOPICS IN CREATIVITY
17) Creativity Across Cultures (Todd I. Lubart)
18) Computer Models of Creativity (Margaret A. Boden)
19) Organisational Creativity (Wendy M. Williams and Lana T. Yang)
20) Enhancing Creativity (Raymond S. Nickerson)
21) Prodigies and Creativity (Michael J. A. Howe)
PART VI CONCLUSION
22) Fifty Years of Creativity Research (Richard E. Mayer)
Author Index
Subject Index