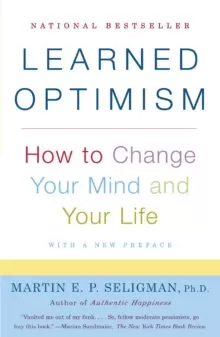 The book helps to answer several very important questions:
why are some people successful and others seem destined to fail in all their ventures?
why do some people never give up? And what are their characteristics?
can the feeling of powerlessness (the belief that what happens is not under our control) be learned or is it part of the personal trait?
is there a relationship between helplessness and depression?
why does depression affect women to a significantly greater degree?
are there situations in which being a pessimist can be helpful?
is it true that people with an optimistic view of life live better and longer?
I bought this book only after having leafed through it, because from the title I had the feeling that I was dealing with the usual American 'how to…' manual.
I began to reconsider my position when I found the title in reliable bibliographies and realised that I was dealing with a book that can help people radically change their attitude towards life's events and improve its quality.
The author leads us on a journey where, through several studies and exciting stories, the reader gradually becomes aware that optimism can contribute greatly to our success and influence the quality and length of our lives; in short, our future largely depends on how we deal with failures and work to contain them.
Here is a short video in which Martin Seligman talks about the concept of positive Psychology – you will find other interesting videos by querying the search engines.
The good news that Martin Seligman tells us is that optimism can be learned; what may appear to be a pessimistic nature, embedded in our traits, can actually be changed even radically through the techniques that the author introduces to us: with examples of application in everyday life, in the relationship with children and at work.
Interesting examples of the use of the C.A.V.E. technique. (Content Analysis of Verbatim Explanation) based on the analysis of explanatory style, which indicates how people explain an event to themselves and how they experience it: e.g. 'I can't do anything right' or 'Everything I touch turns to gold'.
Seligman presents some fascinating applications of the technique.
For instance, in 1988 it was possible in the USA to predict both the results of the primaries and the presidential race 'simply' by analysing the text of the candidates' speeches; the winner was George Bush, the candidate judged to be the most optimistic.
You can imagine the use that can be made of such indications in the preparation of political leaders' speeches, can't you?
Another interesting case is the application of the C.A.V.E. technique in sport; here, the way athletes evaluate their own performance can provide coaches with useful indications to help improve their results and/or manage a team.
What I found exciting, however, is the concept of learned helplessness, a state of mind in which a directive management style risks bringing the whole organisation to its knees: a point that entrepreneurs and managers in search of ego nourishment should reflect upon.
At the end of the book a very important question: what optimism are we looking for?
An optimism resulting from the so-called 'Pollyanna syndrome', which consists in perceiving, remembering and communicating only the positive aspects of the events, ignoring the negative ones, or a balanced optimism, which realistically increases awareness and confidence, reducing the risk of failure?
Certainly the latter; to its construction, critical thinking can make a fundamental contribution.
Finally, a word of warning: there are some tests in the book which you may be tempted to try. I suggest you do not get worried, especially if the results are not the expected ones: I, perhaps due to printing errors, often got inconsistent results.
A must-read book, because it can simply change the way you look at events and live your life.
Contents
Part One – Research
Two ways of looking at life
The territory to conquer
Depression
Success
Learning about helplessness
Vulnerability and invulnerability
Explain adversity
Measure your optimism
Explanatory style
Who are the people who never give up?
Attention to responsibility
What can you do if you are pessimistic?
The last stage of pessimism
As you think, so you are
Learned helplessness and the explanatory style
Is pessimism the cause of depression?
Explanatory style and cognitive therapy
Rumination and depression
The other side of depression: women and men
Treating depression
Cognitive therapy and depression
Why does cognitive therapy work?
Therapy
Part Two – The kingdoms of life
Success at work
The explanatory style of success
Measuring talent
The explanatory style at Metropolitan Life
The "special strength" study
Special strength
The new Metropolitan Life recruitment policy
Changing Pessimists into Optimists
Why Pessimism Exists
Optimists and pessimists
Children and parents: the origins of optimism
Measure your child's optimism
Why children can't be helpless
School
The classroom
Measure your child's depression
The Princeton-Penn longitudinal study
Divorce and parental crisis
Girls and boys
The college
The West Point training centres
The traditional view of academic success
Sport
The National League
The 1985 Mets and 1986 Cardinals
The National Basketball Association
The Boston Celtics and New Jersey Nets
The Berkeley swimmers
What every coach should know
Health
The mind-body problem
Optimism and health
Pessimism, mental illness and cancer
The immune system
Optimism and health
The men of the Grant Study
The mind-body problem revisited
Psychological prevention and therapy
Politics, religion, culture: a new psychohistory
American presidential elections from 1948 to 1984
1900-1944
The 1988 elections
The 1988 primaries
The 1988 presidential campaign
The 1988 Senate Elections
The explanatory style across the border
Religion and optimism
Psychohistory revisited
Part Three – Change: from pessimism to optimism
The optimistic life
Guidelines for using optimism
The ABCs
Identify the ABCs
Your ABC score
Discussion and Distraction
Learning to discuss with yourself
The externalisation of voices
In summary
Help your child avoid pessimism
ABCs for your child
Recording your child's ABCs
Your child's ABDE
Recording your child's ABCDEs
Externalising voices for your child
Optimism in organisations
The 3 benefits of optimism
Learning optimism
Changing your inner dialogue at work: the ABCDE model
ABC
Identify the ABCs
ABDCE
Externalising voices
In summary
Flexible optimism
A new way of looking at depression
Changing the balance
The strengths of the maximum self
Flexible optimism
Acknowledgements