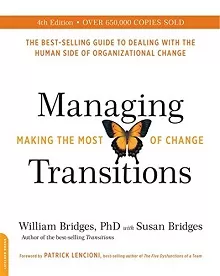 Here is a book that has deeply changed the way I observe change as well as accompany my clients to manage it.
First of all, let's ask ourselves: what is change all about?
Change essentially means moving from one situation to another: the reorganization of a business department, a newly appointed general manager, a headquarters change, the birth of a child, or changing jobs are some examples of what we face at least once in a lifetime.
Too often we move from one situation to another without focusing on a crucial point: the significance of the transition from point A to point B, namely the psychological and emotional implications of the transition, which risks jeopardizing the success of the change.
For it is not the change that challenges us, but all that we have to cope with during the transition: giving up what we hold, dealing with the worry of the transition, and accepting the uncertainty of the new beginning again.
More in detail, here are the three stages of transition:
Letting go of the old habits and identity. In this first stage, people lose something and need help to cope with their losses.
The middle stage, where the old is gone but the new is not yet completely operational. We are in a "neutral zone," in which critical psychological realignment occurs, a new model is discovered and people adapt to it.
Coming out of the neutral zone and starting a new beginning. This is the time when people develop a new identity, experience new energy and discover the meaning of change.
The personal and professional lives of each of us are dotted with situations in which we experience the three phases of transition: business mergers and acquisitions, getting promoted into a new role, organizational restructuring, house moving, marriage, and cost-cutting just a few examples.
What Susan and William Bridges claim in their best-selling book is that the difficulty is not in achieving situational change but in managing the psychological transition; the Authors provide us with a well-defined model and a clear understanding of the impact of careless management.
The book is intended for anyone who engages in change processes in diverse ways: staff members, managers, advisors, and coaches, providing an impressive number of examples based on real-life situations and case studies that help get a feel for complexity.
Not forgetting to emphasize a crucial aspect:
transition cannot be achieved without
the involvement of people, at all organizational levels.
A must-read book!
Now watch this short video introduction to the book, then go to the book's table of contents.
Contents
Acknowledgements
Foreword by Patrick Lencioni
Introduction
PART ONE: THE PROBLEM
1 It isn't the Changes That Do You In
2 A Test Case
PART TWO: THE SOLUTION
3 How to Get People to Let Go
4 Leading People through the Neutral Zone
5 Launching a New Beginning
6 Transition, Development, and Renewal
PART THREE: DEALING WITH NONSTOP CHANGE IN THE ORGANIZATION AND IN YOUR LIFE
7 How to Deal with Nonstop Change
PART FOUR: THE CONCLUSION
8 A Practice Case
9 Conclusion
Afterword: by Steven Kelban
APPENDICES
A: Assessing Your Transition Readiness
B: Planning for Transition
C: Setting Up a Transition Monitoring Team
D: Career Advice for Employees of Organizations in Transition
E: The Leaders Role in Times of Transition
Index
About the Authors
If you are interested in managing a change project click on the link!