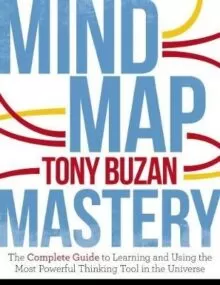 How to use the most powerful tool to help the brain to think, create, study, organise…
What is a mind map?
It is a form of graphic presentation of thought (ideas, knowledge, …) developed in its many aspects by the English cognitive psychologist Tony Buzan.
Basically, the tool consists in using visual memory to structure and store concepts and information, develop new ideas to find solutions to problems and difficulties.
The use of mind maps has a wide range of applications, which you can see in more detail in the book's index: from personal performance (memorisation, concentration, communication and work organisation) to problem-solving and individual and group creativity.
The systematic use of mind maps can dramatically and in a short time change the way you approach your professional and personal life.
The book I am presenting to you was written by Tony Buzan, the psychologist who structured the use of mind maps and spread it around the world; reading it will help you to acquire the techniques of mind maps management, and understand the endless fields of application.
Unfortunately, Tony Buzan can't resist the temptation to advertise too much the solutions he and his team have developed: a slightly different attitude would have benefited the book.
Here is a video of the author talking about mind maps.
I recommend that you buy the book and read it carefully.
In the meantime, you can start using mind maps right away by downloading one of the most widely used applications in the world, free at the basic level: http://www.xmind.net/
Enjoy!
Index
Part I – Natural architecture
This amazing brain
The Great Brains
Brains in difficulty
Radiant Thinking
The Way Ahead
Part II – Fundamentals
Brainstorming words
Image Brainstorming
From Brainstorming to Mind Mapping
Mind Mapping
Part III – Structure
Leading principles
Developing a personal style
Part IV – Synthesis
Making choices
Organising your ideas
Organising the ideas of others
Memory
Creative Thinking
The Group Mind Map
Part V – Usage
Personal level
Self-analysis
Problem Solving
The Mind Map Diary
Family
Family learning and storytelling
Training
Thinking
Teaching
Creating the General Mind Map
Business and profession
Meetings
Presentations
Management
Mind Mapping with the computer
The Future
Towards a Radiant Thinking and Mentally Literate World
Part VI – Appendices
Big Brains Quiz
Answers to the Big Brains Quiz
Bibliography