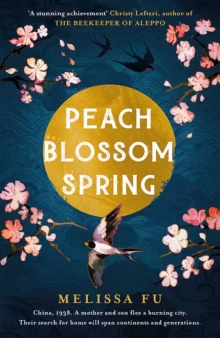 Peach Blossom Spring (Chinese: 桃花源), was a fable written by Tao Yuanming in 421 CE, it tells the story of a fisherman who, by chance, discovers an idyllic utopia where the people lead an ideal existence in harmony with nature, unaware of the outside world for centuries. The fisherman was warmly received by the hospitable villagers, yet he couldn't decide whether to stay or go back to his world.
When Melissa Fu came across this fable while penning her debut novel, she was astounded by how similar the characters in her book are to those in the fable:
When you think you've found a utopia, what are you leaving behind?
Where would you go?
Even if you could just live in heaven, would you miss the chaos?
Peach Blossom Spring was created as a result, and Fu included the tale in her story: I had the pleasure of speaking with Fu, and this review will also include the interview.
Peach Blossom Spring is a remarkable multigenerational story that spans decades, from pre-WWII China to post-Cold War America, and tells a powerfully moving and beautifully nuanced tale of loss, hope, and belonging. Through the story of one family and their search for a home, Peach Blossom Spring provides a window into the history of modern China.
Before diving into the book, here is a brief introduction from Fu about her book.
What can we learn from this book?
Here are a few very interesting aspects that are worth mentioning.
Women's role in this book
Fu keeps the story focused, so we're not trying to follow too many characters or places. The story is told from three perspectives: Meilin, Renshu, and Renshu's daughter Lily. The characters are well-developed, including the side characters like Renshu's wife Rachel.
I fell in love with Meilin, her gentleness coupled with her heroism was astounding. During the conversation, Fu gave us some insight into what we may learn from these female characters in her book:
Meilin – her quick wit, determination, and resourcefulness;
Rachel – her patience, steadfastness, and willingness to love what she cannot fully understand;
Lily – her curiosity, tenacity, and stubbornness.
What can we learn from them?
Perhaps, there are many ways to love fiercely and deeply. And maybe also that we need people who love us in different ways, with different superpowers.
Cultural background
This book would be ideal if you wanted to read more books that have an emphasis on Asian culture. The combination of historical context, emotionally engaging people, and rich cultural detail (including food, clothing, storytelling, language, etc.) was masterfully balanced. The writing style kept me interested throughout.
I adored how Fu always emphasized the value of language and storytelling. Meilin teaches her son by showing an elaborate scroll to him and explaining the stories it contains, much like a parent today guides their child's exploration of the world through picture books. Those things create lasting memories for children, that we often come back to as adults. There's a moment where Renshu is in a museum, many years later, and he sees a scroll like the one he loved as a child, which I found particularly memorable.
Multiculturalism and identity
This book is a timely story of displaced Chinese immigrants searching for home and identity after the war and revolution ravage their homeland. It resonated with us because Renshu's experience in the United States led us to think back on what our parents and their generation may have gone through.
Renshu feels split into two identities, and he feels he has to close off his Chinese self to become American. He also feels he can't share his traumatic experiences with his wife and daughter, even though they want to understand where he comes from and what he's lived through. He feels they are better off not knowing, and he doesn't see value in reliving his experiences.
I would recommend this book to anyone who loves historical fiction, especially if you have an interest in Chinese culture. The book is now available in English, Italian, German, and Dutch. I will now leave you to more details from the wonderful Melissa Fu herself.
A brief interview with Melissa Fu
This is your very first published book. What does this book mean to you?
I love this question, thank you for asking! Somehow, no one has asked me this and it's such a great starting point. This book means so many things: it's the realization of a dream that took me years to even believe I could dream, it's a love letter and homage to my father and his life, it's how I've come to understand so much about myself and my family. Even though it didn't take me my entire life to write the book, I do feel like this book is the work of my life. I started it when I was 45 and it was published when I was 49. But I couldn't have written it a day earlier, I needed to do a lot of living first. This is the book I was born to write.
Your novel gives readers a glimpse into Chinese traditions. What do you think about them?
One of the most enjoyable parts of researching and writing the book was learning more about various Chinese traditions. I had known some from my father and my Nainai (paternal grandmother), but only in small gestures or sayings. My father, like the father in the book, didn't really share too much about his history or heritage. So, when I'd discover that things he said or did were actually part of a larger tradition, it felt like pieces of a puzzle were falling into place. In a way, learning that I knew some Chinese traditions without realizing I had known them all along gave me a deep sense of belonging and happiness.
What do you think about the different roles played by women in this book? (For Meilin, Lily, and Rachel) What can we learn from them in today's content?
Another great question, thank you! At one point during the drafting process, I described the novel as the life of a man (Renshu/Henry) shaped by the three most important people in his life: his mother, his wife and his daughter. To me, each of the three women has her own strength. Meilin – her quick wit, determination, and resourcefulness. Rachel – her patience, steadfastness, and willingness to love what she cannot fully understand. Lily – her curiosity, tenacity, and stubbornness. What can we learn from them? Perhaps, there are many ways to love fiercely and deeply. And maybe also that we need people who love us in different ways, with different superpowers.
Multiculturalism is becoming a crucial factor worldwide. What are the challenges of working across so different cultures?
This is such an important observation. I am always delighted when someone engages with the multicultural aspects of the book. Broadly speaking, one might say this is a book about a Chinese family. But across the Chinese diaspora, not only are there many different cultures, but subcultures and layers of nuance and experience. To me, working and playing across cultures is the most joyful and effective way of building understanding. And I think building understanding among people, especially if they have come to the same place from different directions, is the great gift that writing, and stories can offer.
As for challenges, there is the perennial challenge of trying to 'get it right.' I'm not sure there is a single right way to portray a particular culture, but there are certainly ways of doing it poorly. Every creative must make difficult decisions around this question. I start with respect: for the cultures, for the characters, for the situations. I set a personal standard to do as much research as I can, and then I proceed with an intention to portray a person or community with the complexity and fullness of real life. I'm not sure I always succeed (who does?), but I try my best.
What about the top 3 books you'd recommend?
Only three? Oh, that's difficult! Here are three books that come to mind that I've enjoyed recently: