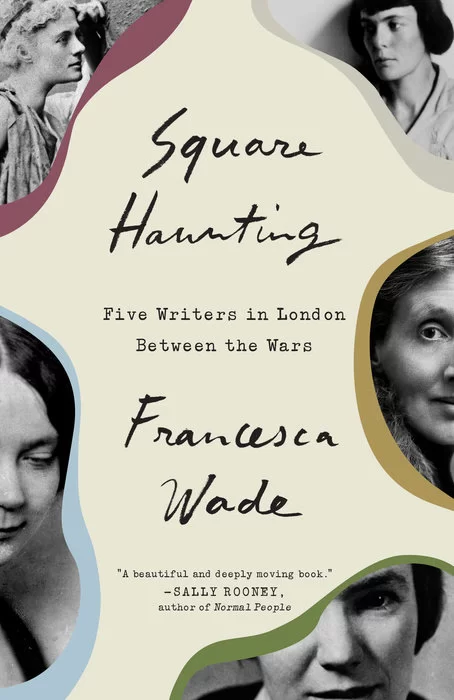 Imagine the delight of passing a historical building while knowing about the stories of the residents. Architecture encompasses more than simply the design and planning of the constructed environment; it has a significant impact on our culture, our sense of self, and the surroundings in which we live.
In 1927, Virginia Woolf released her article, Street Haunting. In it, she describes how a walk around London sparked her imagination:
"I like this London life in early summer-
the street sauntering & square haunting."
In 2021, author Francesca Wade adapts Woolf's title for her debut book because she is writing about five women who came to London to widen their horizons and forge new narratives for women.
These women are:
In essence, this book is a collection of brief biographies of five amazing women who lived in the first half of the 20th century at various points between the wars. I love this combination of biography and history, and the linking of lives through architecture.
Here is a short video of the Author taking us to Mecklenburg Square with her:
What can we learn from this book?
As Wade described in the video, these five women rejected the traditional definition of life. After falling into their life difficulties, they came to Mecklenburg Square, expecting to use a new way of life and writing to tear down barriers for women, transform their lives, and reshape the way women tell their stories.
Women get to rewrite their history
At that time, most women stayed at home to receive a typical Victorian family lady education, learning needlework, etiquette, and elegant manners, when they got married, they went straight from their father's household to their husband's home. Women didn't have the freedom to speak in society back then, and libraries forbade them from entering. Even educated women who have jobs cannot get fair remuneration and professional titles compared with men.
For example, the classicist Jane Ellen Harrison (1850-1928), a graduate of Newnham College, Cambridge, before that institution granted degrees to women, despite her academic accomplishments, she, unlike her male counterparts, couldn't find an academic teaching position for many years. Instead, she supported herself as a traveling lecturer, giving dramatic talks about the classics to working men's clubs, schools, and museums.
In 1922, she and her partner, Hope Mirrlees (her former student, a poet) left Cambridge for good and went to Paris, where Jane found a new area of interest. She learned Russian, associated with Russian exiles, and translated a medieval Russian work into English, which was published by Virginia and Leonard Woolfs' Hogarth Press.
Finally, at 75, she moved to Mecklenburg Street to explore a new life and make a contribution to her own life. Harrison and Mirrlees lived in Mecklenburgh Square from 1926 until Harrison died in 1928.
Harrison has repeatedly emphasized that
whether men or women are confined to their gender shackles,
it is the entire social group that is harmed.
She dabbled extensively in classics, archaeology, anthropology, and many other disciplines, becoming a literary heroine at that time and one of the academic founders of modern feminism.
Focusing on different aspects
Wade concentrates on Virginia Woolf's life and work, during the Phony War and the Blitz, since there has been so much written about the famous author during these periods.
Virginia and Leonard Woolf relocated from Tavistock Square to Mecklenburgh Square in August 1939, where they established the Hogarth Press in the basement. When their home in Mecklenburgh Square was destroyed by a bomb in 1940, they transferred what they could save back to Rodmell, where they spent most of their time.
Woolf committed suicide by drowning in 1941.
Wade points out that Woolf accomplished a lot in her writing during her final year and was full of ideas and ambitions, while many accounts of Woolf's life start with her suicide and go back into her earlier experiences, searching for signs that she was heading in that path: Woolf completed writing Roger Fry's autobiography, joined the Rodmell Women's Institute, participated in plays, and produced her final book, Between the Acts.
But best of all, for me, was the 'After the Square' chapter at the end. Here, the Author drew together her thoughts and arguments, drawing clearer attention to the common threads that drew the women together.
Wade concludes by describing her own emotions and sensations while wandering through Bloomsbury: "There are pockets of the city where we can recall a radical past," she writes, "and Mecklenburgh Square is one of these."
Kudos to her for bringing the achievements of these five women into the light again.
Table of Content
Cover
Title Page
Copyright
Epigraph
Prologue
In the Square
H. D.
Dorothy L. Sayers
Jane Ellen Harrison
Eileen Power
Virginia Woolf
After the Square
Notes
Select Bibliography
Acknowledgments
Text Permissions
List of Illustrations
About the Author