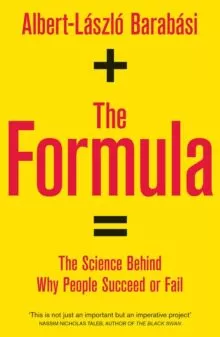 A good friend of mine, an experienced bookseller, one day recommended to buying this book.
"Read it, you will find it interesting enough to use in your work, and you'll recommend it to the readers of your blog".
He was absolutely right; I ate the book in one go and here I am writing a review.
Before I tell you about the content, let me ask you to answer a few questions:
Why do you come across very competent people who, despite having worked hard for a long time, did not achieve the success they deserve?
How can it happen that a colleague who is punctually late and unprepared for meetings ends up becoming your boss?
Why is your idea not considered, but the same concept stated by someone else in different words is enthusiastically welcomed?
Why is the link between performance and success so weak?
How can it happen that a person works hard for a large part of his/her life and achieves success late, when he/she no longer expects it?
Why, when you applied for an interesting role, you weren't considered even if you were fully qualified?
Why are successful people more and more successful, even when their performance is not so good?
Why is the success of a team always credited to one person?
What influence does the order of performance have on the outcome of a competition? And what about the interview order in a selection interview?
How can it happen that a wine (but also a song or a book) takes first place in one competition and is not rated among the most interesting in another?
Albert-László Barabási, who teaches at North-Eastern University and is among the world's leading experts in network science, will help you answer these and other questions with evidence from rigorous testing and analysis of Big Data (large volumes of computer data that have expanded in volume, velocity and variety to require specific technologies and analytical methods for extracting value or knowledge), conducted with his team or by other scientists.
With an engaging narrative technique, the Author guides you to discover the five laws that govern people's success in every arena; principles that govern our lives, personal and professional, just as the air, the sun and the law of gravity have always done.
And maybe because they have always been before our eyes, they are so difficult to spot.
So it is that by using the story of the Red Baron, Einstein's first trip to the United States, the birth of one of the masterpieces of jazz music (Kind of Blue) by Miles Davis, the stories of Tiger Woods and the difficulties of his opponents, Barabási helps you to identify the five laws of success and, more importantly, to
discover a strategy to implement them.
Want to know the five laws?
The author himself explains them to you in the video below, but I highly recommend reading the book anyway.
A must.
Summary
Introduction – Your success has nothing to do with you, but with us
Acknowledgements
The Formula
Chapter One. The Red Baron and the forgotten champion.
The first law
Chapter Two. Grand slams and diplomas
Chapter Three. The two-million-dollar urinal
The second law
Chapter four. How much is a bottle of wine worth?
Chapter five. Superstars and the laws of power
The third law
Chapter six. Exploding Kittens and sockpuppeting
Chapter seven. The ear of the listener
The fourth law
Chapter eight. Tradition and innovation
Chapter nine. The algorithm that discovered the ignored scientist
The fifth law
Chapter ten. Einstein's error
Conclusions