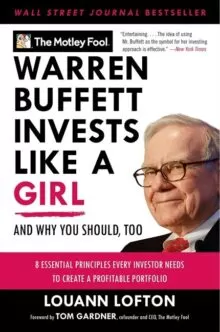 Do you think I'm joking?
I know, every time you hear the word "girl" in a title you become diffident.
But this is not a joke and I am not going mad: because by reading this book, you will discover that actually the investment strategy followed by Warren Buffett, widely acknowledged as one of the world's (if not the No. 1) most successful investors, has embraced the investment strategies that have given women a record of achievement that most ignore.
What are they? Here they are in brief, just as they are mentioned in the book by the author.
Female investors tend to:
Trade less than men do;
Exhibit less overconfidence: men think they know more than they do, while women are more likely to know more than they think;
Shun risk more than male investors do;
Be more realistic than their male counterparts;
Put in more time and effort researching, considering every angle and detail, as well as alternate points of view;
Be more immune to peer pressure and tend to make decisions the same way regardless of who's watching;
Learn from their mistakes;
They have less testosterone than men do, making them less willing to take extreme risks, which, in turn, could lead to less extreme market cycles.
To each of the eight points mentioned, the author devotes a chapter, in which she supports her conclusions with quantitative research and authoritative interviews.
In short, patience, realism, reflection and the ability to acknowledge one's mistakes seem to be the key ingredients for the successful investor: traits we find recurring in women, not so much in men.
Then, why is it that in financial organizations women occupy the top 10% positions and only one in five of the available money manager positions is entrusted to a woman?
The shareholders of the investment companies must provide the answer: as for me, I tell you that if I had €10,000 to invest, I would entrust it to a woman.
Am I wrong?
Now, before I introduce you to the table of contents, here is a short video in which LouAnn Lofton presents her book.
Contents
Cover
Title Page
Dedication
Foreword
Chapter 1 – Why Temperament Matters Now More Than Ever
Chapter 2 – The Science Behind the Girl
Chapter 3 – A Quick Intro to the Oracle
Chapter 4 – Trade Less, Make More
Chapter 5 – Rein In Overconfidence
Chapter 6 – Shun Risk
Chapter 7 – Focus on the Positives of Pessimism
Chapter 8 – Research Extensively
Chapter 9 – Ignore Peer Pressure
Chapter 10 – Learn from Mistakes
Chapter 11 – Embrace Feminine Influences
Chapter 12 – Maintain Consistent, Persistent Results
Chapter 13 – Value People and Relationships
Chapter 14 – Question the Masters
Chapter 15 – Act Fairly and Ethically
Chapter 16 – Foolish Investing Principles 101
Appendices
A Quick Guide Recapping the Female Investor's Temperament and What Buffett Can Teach Us
Interview with Value Investor Lisa O'Dell Rapuano, CFA,
Founder of Lane Five Capital Management
Interview with Value Investor Lauren C. Templeton, Founder of
Lauren Templeton Capital Management
Interview with Value Investors Candace King Weir and Amelia
Weir of Paradigm Capital Management
Interview with Value Investor Bill Mann of the Motley Fool
Independence Fund and the Motley Fool Great America Fund
Further Reading: Books for Investors of All Levels Who Want to
Learn More (Courtesy of Motley Fool Inside Value)
Acknowledgements