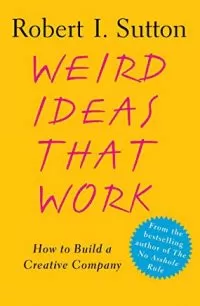 In this book, Robert I. Sutton proposes a decalogue of weird ideas to be applied in companies that want to become competitive.
These ideas are divided into eleven (and a half) points and are based on theories and research-proven both academically and practically, to promote creativity and innovation.
Any examples?
Who would have thought that hiring people you don't need or ignoring your bosses' instructions would be healthy business habits?
According to Sutton, standard management practices work when it comes to day-to-day management, but it's the most eccentric and seemingly insane ideas that stimulate a company's progress.
Think of something ridiculous and impractical and do it, find positive people and make them argue, reward success and failure, punish immobility, avoid, distract and bore customers, critics and those who speak only of money.
These are just some of the suggestions that the author makes to all those who care about the future of their business and their projects.
You need to have the courage to challenge, and often subvert, your deep-seated beliefs about how you manage your resources and make your decisions.
Even if this means making choices that someone – especially those who focus on immediate gain – might consider contrary to common sense.
Without forgetting that to find out an innovative idea, you have to try many that could be a failure.
CONTENTS
PART I:  WHY THE WEIRD IDEAS WORK
1)      Why These Ideas Work, but Seem Weird
2)      What Is Creativity, Anyway?
PART II: THE WEIRD IDEAS
3)      Hire "Slow Learners" (of the Organizational Code)   (Weird idea #1)
4)      Hire People Who Make You Uncomfortable, Even Those You Dislike (Weird Idea #VA)
5)      Hire People You (Probably) Don't Need (Weird Idea #2)
6)      Use Job Interviews to Get Ideas, Not to Screen Candidates (Weird Idea #3)
7)      Encourage People to Ignore and Defy Superiors and Peers (Weird Idea #4)
8)      Find Some Happy People and Get Them to Fight (Weird Idea #5)
9)      Reward Success and Failure, Punish Inaction (Weird Idea #6)
10)   Decide to Do Something That Will Probably Fail, Then Convince Yourself and Everyone Else That Success Is
11)   Think of Some Ridiculous or Impractical Things to Do, Then Plan to Do Them (Weird Idea #8)
12)   Avoid, Distract, and Bore Customers, Critics, and Anyone Who Just Wants to Talk About Money (Weird Idea #9)
13)   Don't Try to Learn Anything from People Who Seem to Have Solved the Problems You Face (Weird Idea #10)
14)   Forget the Past, Especially Your Company's Successes (Weird Idea #11)
PART III: PUTTING THE WEIRD IDEAS TO WORK
15) Building Companies Where Innovation Is a Way of Life
Acknowledgements
Notes