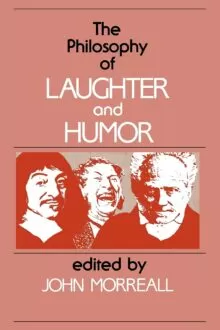 Laughing represents a positive and fulfilling experience.
It makes us feel better because, in difficult situations, laughter provides us with the opportunity to take an emotional distance from what is happening, seizing a structure that enables us to perceive them as funny rather than tragic.
An example?
The famous quote by Oscar Wilde, who on his deathbed pronounced these words:
This wallpaper and I are fighting a duel to the death.
Either it goes or I do
Situations that we find amusing are characterized by a certain degree of humour, that is, the ability to grasp, represent and communicate the curious, ridiculous, funny, and even grotesque aspects of situations; aspects that lead us to laugh at them with irony but also with understanding, indulgence, and human sympathy.
Laughter, on the other hand, is generated by humorous situations and is a direct consequence of them; it is a more or less intense and noisy expression of joy and/or euphoria that causes a change in a person's breathing, facial expression, and often posture.
What is the power of humour?
A situation of humour can be represented by an incident, image, or experience that surprises our minds because it appears to be inconsistent with what we acknowledge as ordinary.
Humour is very familiar with the use of words: it distorts them, changes their logic, and de-contextualizes them to create unexpected situations or simply helps us grasp previously ignored aspects of reality.
The author examines the characteristics of humour, its nature, and the signals through which it reveals itself.
And he helps us to:
understand what makes us laugh and for what reason;
gain an insight into our natural inclination to laugh and its effects on psychological well-being;
distinguish the emotions it generates from others;
understand the thin link between comedy and tragedy, opposing yet intimately related concepts;
grasp the distinctive aspects of humour and laughter, the latter too often mistreated by "serious" fields of thought, such as religion and philosophy;
understand how humour manifested itself in early humans and how it later developed.
If you want to explore the historical, literary, and sociological aspects of the subject you will find in this work an interesting bibliography.
What John Morreall implies, without talking about it explicitly, is that at the basis of humour, we find cognitive flexibility, that complex competence used by people who act successfully in problem-solving, creative processes and innovation; because the book represents a real guide to the "construction" of humour, presenting thinking techniques that allow formulating a new interpretation of reality, grasping its previously unknown structure and dealing with it in unconventional ways.
This is precisely why I recommend reading the book to anyone in a company who is involved in various degrees in innovation processes or change management because they will benefit from it in their day-to-day work.
Forgot!
Are you one of those who occasionally laugh inappropriately?
Yes, the one that can slip away in front of someone talking nonsense, or worse in front of your boss.
If you don't know how to handle such situations, the book will help you through them (Chapter 5): but I'm sure you know very well how to handle them.
Do you?
Before reading the table of contents look at this short video, where John Morreall introduces his book.
Enjoy!
Content
PREFACE
INTRODUCTION
THERE IS NOTHING TO LAUGH ABOUT

The rejection of humour and theories of humour in the philosophical tradition
Humor, anarchy, and aggression
The superiority theory: humour as antisocial behaviour
The incongruity theory: humour and irrationality
The relief theory: humour as an escape valve
The minority view of Aristotle and Thomas Aquinas: humour as playful relaxation
Robert Latta's theory of relaxation

EITHER FIGHT OR FLIGHT (OR LAUGH)

The psychology of humour
Humour and detachment
Humour as play
Laughter as a signal for play

FROM LUCY THE AUSTRALOPITHECINE TO LUCY OF THE PEANUTS

Evolution of humour
In the beginning, was laughter
The basic pattern of humour: cognitive slippage, amusement, laughter
The value of hilarity

THE SMILE OF MONNA LISA

The aesthetics of humour
Humour as an aesthetic experience
Humour and other ways of enjoying cognitive slips
Tragedy versus comedy: better heavy or light?
Beyond jokes: spontaneous humour versus prepackaged humour

LAUGHING AT THE WRONG TIME

The negative ethics of humour
Eight classic moral objections
The limitations of current humor ethics
A more inclusive approach: the ethics of disengagement
Irresponsibility
Impassibility
Prejudice

HAVING A GOOD LAUGH

The positive ethics of humor
Humour and the virtues of the intellect
Humour and the moral virtues
Humour and the Third Reich

HOMO SAPIENS AND HOMO RIDENS

Philosophy and comedy
Was Socrates the first comedian?
Humour and the existentialists
The Laughing Buddha

THE GLASS HALF EMPTY AND HALF FULL

The wisdom of the comedian
BIBLIOGRAPHY
ANALYTICAL INDEX