Three good reasons for sharing your knowledge!
I know, but I'm not going to tell you...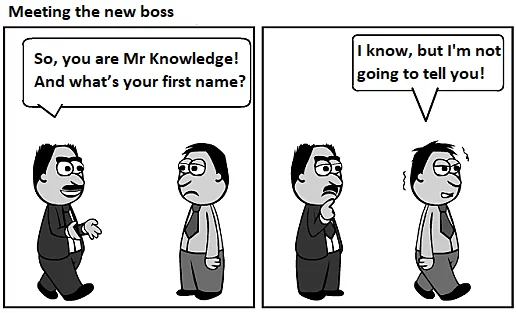 I keep my knowledge for myself.
Because if I tell you, you might take my place. Or replace me.
So, why should I share what I've learned so far?
This way of thinking, whether silent or evident, is quite common in organizations.
However, people trying to protect their knowledge from the "competition" of bosses, colleagues and staff members forget 3 things:
we are paid to make available to the organization what we know and learn every day;
knowledge deteriorates rapidly, and sooner or later even the most exclusive knowledge will lose its value (sooner, believe me…);
if we don't share our knowledge, it will be difficult to learn new things, because people we work with will be inclined to mirror our behaviour.
The result?
Relationships that are not exactly idyllic, the knowledge that perishes, loss of organizational " weight".
In short,
half a foot out of the organization.
Is it worth it?
Leave your comment now! (* mandatory)