This post will help you find the answers!
WHAT DO YOU NEED TO KNOW BEFORE ENROLLING IN A TRAINING COURSE?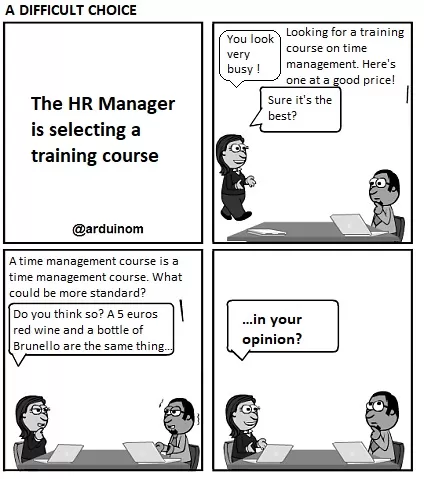 My last intercompany training course was about critical thinking, a topic particularly suitable for the three questions I usually ask participants at the beginning:
why did you decide to participate?
what do you expect from the course?
what information did you collect about me?
Participants confirmed the attitude to decide whether or not to participate on the base of the title of the course, taking a shallow look at the content and not caring much about collecting information about the teacher.
Is this behaviour convenient?
Does it make sense to invest time and money without having a clear idea about the teacher's preparation and experience on the topic?
Many consider a training course as a commodity to be bought at the lowest price, taking for granted that the contents are always the same and paying little attention to the teacher's experience: after all, what difference might exist between a 5 euros bottle of red wine and one of Brunello riserva?
Moreover, companies seem to be dimly aware that the actual investment they make is not in the course participation fee, but in the time people are away from their work.
What is essential to explore before deciding to attend a training course?
Here are the aspects I strongly suggest you check out.
Content
Are they sufficiently detailed?
Are they accurately explained?
Do they feature original elements?
Is it the usual " warmed-up soup," perhaps copied from the net? (Simple check this by copying and pasting one or more sentences from the content description into a search engine box)
Participants and background information
Whom is the course designed for? (The organization that skips over this point leaves open two possibilities: it hasn't considered it or it has the priority of filling the classroom)
Do you identify yourself among the target audience?
Is there a maximum number of participants? (More than 10-12 participants make the interaction more difficult and you may end up taking part in a conference rather than a training course)
Classroom management and teaching tools
What teaching tools will be used to facilitate learning?
Are you taking the risk of encountering a teacher who "spills" on you an avalanche of information, risking falling asleep while he/she speaks?
The teacher
Who is he/she?
What knowledge does he/she have of the topic?
Does he/she someone have direct or only academic experience?
Has he/she written anything on the subject (books, articles, publications of various kinds) or does he/she routinely write about it?
Is he on LinkedIn? What information can you collect about him/her? (Your network might help you get the relevant information, trust it…)
If you know for sure that the teacher gives extensive guarantees about his/her preparation, or it is a name capable of drawing a large audience, then make sure that the organizers are willing to refund the participation fee in case of "sudden unavailability."
Final test
How can you verify what you have learned?
Is a test scheduled to offer a measurement of your learning? (People that are aware they will be required to take a final test will attend training courses with higher involvement).
Last but not least, price!
A critical point, always.
A significant fee does not always guarantee quality.
Moreover, a low price may hide a ruse to sell higher-priced services.
In any case, choosing based on the participation fee only is never a good idea; therefore, collecting the relevant information is vital if you don't want to waste time and money.
I know what you are thinking: what if the information you are interested in is not immediately available?
How can you deal with that?
Experience shows that people who did not give you enough information at the presentation stage are unlikely to deliver a quality course.
However, if the topic is really important for you then break the delay and contact the course providers to gather the missing information: better by phone, it will be easier to check how much they are "on the spot."
What do you think?
Leave your comment now! (* mandatory)